With Elevation at 4507 meters, the Karisimbi Volcano is the highest of the 8 mount peaks of the Virunga conservation region. Easily accessible from Rwanda's Volcanoes national park, the Karisimbi volcan is every hiker's challenge.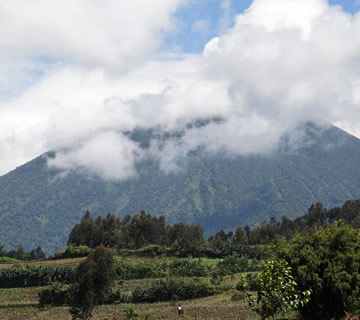 Mount Karisimbi is part of the sister chain of 8 volcanoes part of the Virunga conservation region comprising borders of Democratic Republic of Congo, Rwanda and Uganda which include Mount Bisoke – 1 Day Hike, Mount Muhabura – 1 day hike, Mount Sabyinyo – 1 day hike, Mikeno volcano – not hiked, Nyiragongo volcano – 2 day hike, mount Nyamuragira – not hiked.
Why we Love Karisimbi/ Karisimbi offers a strenuous hike – a real challenge which requires the hiker to be physically prepared for the challenge. Being located right in Volcanoes national park and a legendary place where Dian fossey setup her Karisoke research center where she based to protect mountain gorillas, chances of coming access gorillas are quite possible! Its just a chance (:)
Mount Karisimbi offers spectacular views at the top of the Volcano. Since its the higher volcano, you get to see other peaks which are lower like Nyiragongo, Bisoke and others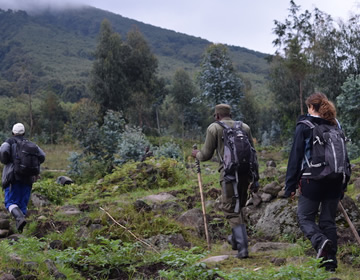 When is the best time to go
Dry seasons – December, January to March and June to October are the driest months to go Karisimbi Hiking. You can also hike the rest of the months as Rwanda has tropical climate and it can rain any time of the day!
What to pack for mount Karisimbi hiking
You can hire hiking gear from w if you are traveling on your own while if you are planning your tour with a local tour company, they take care of everything.
Pack sturdy hiking boots, rain gear, comfortable hiking pants, warm clothes, layer of socks, gloves, hat, scarf, headlamp for the night, snacks and energy food and snack, enough water, long under wear and sweater for the night it gets freezing cold in the night.