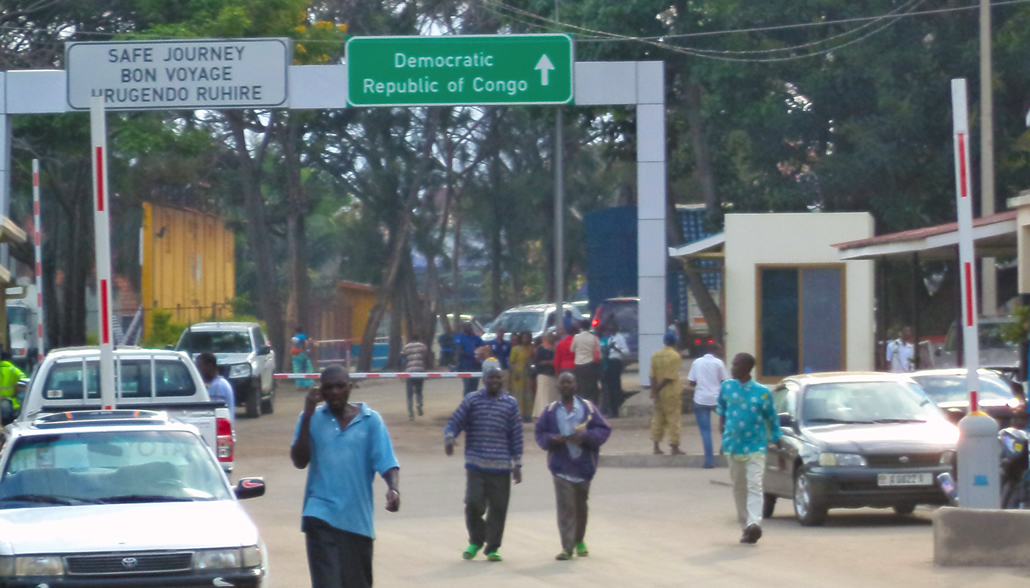 Goma border and city is a landscape of memories located in eastern democratic republic of Congo near the Rwandan Lake Kivu and its lake side resort town of Gisenyi. Not only does Goma border and city have unique natural aspects such as active Mt. Nyiragongo volcano which lies south of the city and mountain gorillas in Virunga national park in the north, it is at the same time an important commercial trade route connecting Rwanda and DR Congo.
Goma city is located in the Albertine rift valley eastern DRC about 3.5 km from Rwandan city of Gisenyi. It enjoys a good pleasant tropical climate all year round with average day time temperature range of 31 degrees Celsius which drops below 17 degrees Celsius at night.
In 2002, 40 % of Goma city was destroyed including Goma airport runways by violent volcanic eruptions from Mt. Nyiragongo. Lives were lost and thousands of people were evacuated. Thereafter, it looked like an Italian city of Pompeii and local artists and Congolese government rebuilt the city.
The city is accessible by road using buses and taxi and ferries and motor boats are used on Lake Kivu water. Flights from Rwanda or Congo's capital kinshasha land at Goma airport. Security improved since 2012 when the last threat of armed conflicts emerged but silenced by joint security of Rwanda and Congolese national army.
How to visit Eastern Democratic Republic of Congo
Tourist planning to visit Eastern DRC have to be arranged in advance and usually coordinated by a tour operator. Visitors are allowed to cross the borders and here is what is required for you to present at the border crossing point
To travel to DRC, you need to apply for your Congo visa in-advance as it takes about a week to be processed and a 6 month valid passport which must be signed and contains blank pages for visa stamp.
Show proof of your travel plans to get a visa with at least a flight itinerary, a copy of your accommodation or activity booking receipts.
To apply for a DRC tourist visa, go to DRC embassy website download the visa application forms, fill them out and resend it back including two colored passport photo sizes. Alternatively you can call or send an email to DRC embassy for visa application and booking information.
Visitors must have a letter of invitation from the person or organization in DRC must show your purpose of your travel, how long you need to stay, the places you wish to visit and contact details in case of an urgent call arises.
You must also show proof of enough money that shall sustain you during your days of stay in DRC.
All visitors must have an international yellow fever vaccination card or certificate.
Getting there
For travelers who are already in Rwanda, getting to DRC is very easy. Transportation means including buses and taxis leave Kigali city and travel to Gisenyi near the border of Goma city. International flights landing direct to Goma airport are convenient while those landing in Kinshasha the capital of DRC can book scheduled charter flights to Goma airport. Contact your tour operator for travel arrangements.
Comments are closed.