If you are looking for breathtaking adventures, look not further than the Dian Fossey hike. The Dian Fossey tomb hike is exceptionally one of the most famous adventure hikes that you shouldn't miss in your travel itinerary. Dian Fossey was the most popular American primatologist who devoted herself in conservation of the rare mountain gorillas and their habitat in the Volcanoes National Park in Northwestern Rwanda.
A trek to the Dian Fossey tomb site allows you to explore her conservation life history as a great conservationist and primatologist in the world well as the nearby gorilla cemetery which is located in what used to be the Karisoke Research Camp.
Today the world celebrates for the increasing number of mountain gorillas but Dian Fossey is largely credited for all this.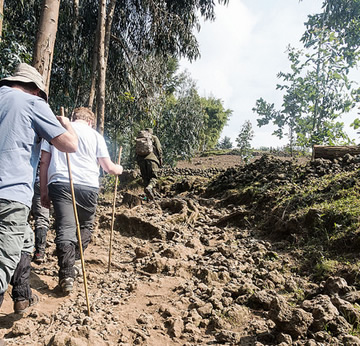 She conducted her research on the rare mountain gorillas for about 18 years while conserving their lives in the wild. She further set up a Karisoke Research Center which is located between two most spectacular volcanoes of Mount Visoke and Mount Karisimbi where the Karisoke derived its name from. The two great volcanoes make up part of the eight Great Virunga Massifs which straddle across Uganda, Rwanda and the Democratic Republic of Congo (DRC). The Karisoke camp site lies at elevation of about 3000 meters but it was deserted during the war time especially around the 1990s.
The Dian Fossey's research drive was speared by Dr. Luis and Mary Leaky who were operating an anthropological research at Olduvai Gorge in Tanzania, a renowned site where the skull of the early man was discovered and now acts as a heritage site and a Tanzania safari destination. She arrived in DRC and set up her camp site at Kabara to kick start her research studies on these critically endangered primates in 1967. The unfortunate bit of it is that she was arrested on 9th July 1967 together with her research assistants who imprisoned them at Rumangabo for about 2 weeks prior her escape route after bribing one of the guards. Dian Fossey finally arrived at Walter Baumgartel's Travelers Rest Hotel in Kisoro which today is Traveler's Resort Hotel where most tourists on gorilla safari to Mgahinga National Park spend a night after their breathtaking adventure from the park.
In September, 1967, the Karisoke research center was already been set up with wide range of developments up to when it was recently relocated to Ruhengeri town but the historical tomb site of Dian Fossey and that of her favorite silverback Digit still stand making it a center for the Dian Fossey hike adventure for most trekkers and hikers on safaris to the Rwanda Volcanoes National Park. She is credited for creating awareness to the world about the mountain gorillas that later she led her to publish book which later transformed into a movie "Gorillas in the Mist" which was shot in remembrance of her works as the Dian Fossey Fund International still carries out research and monitoring of the mountain gorillas in the Volcanoes National Park.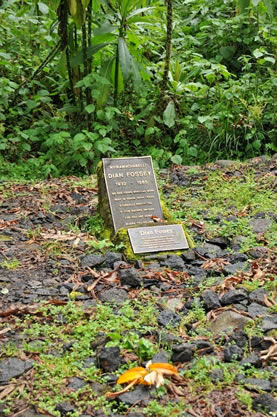 Her works to conserve these endangered species and their habitat led her to encounter many conflicts especially from poachers which later led to her mysterious death in 1985. Dian Fossey was then buried next to her beloved gorilla digit and other 20 more gorillas that were killed by the heartless poachers. In her journal, she stated that when one discovers the value of life, they will depend less on all that is past and focus more on conserving the future. At a moment, the Dian Fossey Fund is following over 10 gorilla families and in Rwanda about 15 and had several more projects to help protect the rare mountain gorillas and other wildlife species.
A trek to the Dian Fossey tomb site starts in the morning and hikers first gather at the park office at 7:00am to meet the park official for early morning briefing and at around 8:00am they depart for 30 minutes towards mount Bisoke where the actual treks begin just outside Volcanoes National Park. For this adventure, you will need a walking stick which will be given to you at the park headquarters free of charge but there are also porters around the park headquarters to help you in case of heavy load.
While on your hike, you will catch a glimpse of the spectacular Virunga Mountains. As you continue, you will come across a stone wall that marks the demarcation of the park and also plays an important part in protecting the forest elephants and buffaloes from crossing over into the adjacent communities. You will the hike through the spectacular Bisoke volcano and also encounter most of primates and other wildlife species along the way.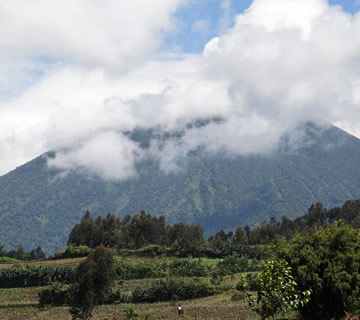 The trek will last between one to three hours depending on your physical fitness and speed. However, you need hiking boots that are light and water proof to help you hike through the steep slopes and the slippery terrain. The park entrance is at $75 and it is paid for the Karisoke Trek per person and includes charges for the tour guide. The trekking permits for Dian Fossey hike are accessible from the park headquarters.
In conclusion, a hike to Dian Fossey tomb site offers tourists opportunity to explore her works on conserving the rare mountain gorillas and their natural habitat. While planning your safari to Rwanda, this should be a must to do adventure that offers breathtaking experiences that come once in lifetime.