The 2 days Mount Karisimbi hike offers a real fantastic hiking opportunity for adventure seekers in Rwanda. With Elevation at 4507 meters, the Karisimbi Volcano is the highest of the 8 mount peaks of the Virunga conservation region.
While planning for Mount Karisimbi hiking, make sure to work on your fitness, do not underestimate it! Karisimbi offers a strenuous hike and you must be ready the challenge!
Itinerary
Day 1: Start Karisimbi Hike with overnight at the Volcano
Most advisable to spend a night in Musanze near Kinigi – Volcanoes national park head office where briefing takes place.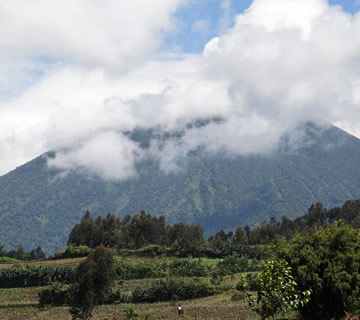 Alternatively you can set off from Kigali early morning by 5:30 AM and hit the road with your guide off to Ruhengeri.
You will assemble at the briefing point, just like visitors going for gorilla trekking and will receive a briefing overview of how the entire hike.
At this point you can choose to take a guide for $5 or carry your backpack your self.
You will start the hike with 2 guides, your porters, a security guard and a team which will be carrying your overnight stay.
The Hike moves at the pace of the slowest person in the group, and leaves no one behind. Its tough if you are in bad shape!
You will have overnight at the top of the Volcano Dinner and overnight camping
Day 2: Descend volcano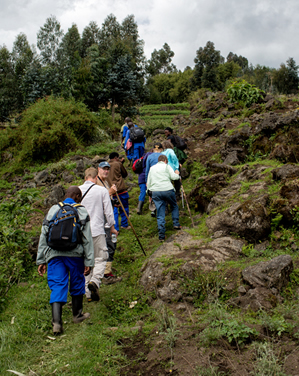 Today, you will hike unto the summit rewarding you with great views of the created lake at the top of thee volcano and sights of other volcanos of the virunga conservation region. Later descent the volcano and find your guide waiting for you drive to your hotel for lunch after which, transfer to Kigali for drop off.
End of Tour
Useful Information