For the most exceptional adventures of lifetime visit Musanze caves in Volcanoes National Park. Besides engaging in mountain gorilla trekking experience, Volcanoes National Park also offers you yet another dramatic adventure at Rwanda's exceptional caves that equally reward endeavors with lifetime experiences. The Musanze caves are located in Ruhengeri, Northern part of Rwanda about 1 to 2 hours drive from Kigali and only 25 kilometers from the Ugandan border. They are situated around Musanze town where the caves derived their name.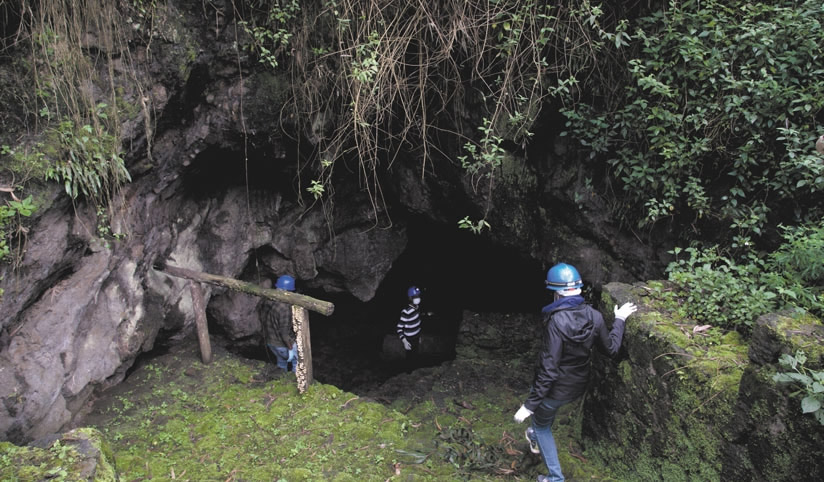 The Musanze caves make up part of 52 caves that are found within the northern region of Rwanda. The cave is 2 kilometers long and it comes with over 31 entrances with one entrance whose size is that of a cathedral and features many pieces of Lava. There also a natural bride that was formed by the Lava from one of the surrounding Virunga Mountains. The caves were formed about 65 million years ago as a result of volcanic eruption by lava basaltic layers from Mount Bisoke and Mount Sabyinyo. The Lava flowed down, cooled and later left huge pockets on the planet that turned to be the most stunning caves. As a result of volcanic activities, the today most spectacular Albertine Rift Valley has been created.
The Musanze caves also feature spectacular green vegetation cover which makes it one of the amazing places for photo taking around Volcanoes National Park. Being an open site, there are also several bats that call the caves their home. While on cave exploration, there are guides who will take you through the caves explaining about their geological history right from formation up to the current status. The Musanze cave exploration is best done after your breathtaking gorilla trekking adventure at the park. The Musanze caves were developed in Rwanda in 2013 as a tourism site and it is currently being visited on daily basis.
The Musanze caves offered refuge to a number of people at the time of the wars and conflict and so the 1994 Genocide in Rwanda that took place between the Hutus and the Tutsis where most of the people were murdered and today respect is given to this site as a memorial place. If you plan to visit these caves, it is advisable that you don't move alone without the local guide.
While inside the caves, you will find a ring on the surface that remained after the effect of volcanic eruption on which flowers and other vegetation survive making a wave of darkness. Entering to this place offers you magical and stunning adventure experiences that come once in lifetime which is why a visit to these caves should be a must to do adventure while you are on safari in Rwanda.
Packing list for Musanze exploration
As you plan to pay a visit to the Musanze caves, do not forget your protective gear especially the helmets with flashlight on them, masks, hiking boots or gumboots, head cap, knee caps, gloves, hand torch and many more hiking items that can facilitate your exploration at the Musanze caves. You will also need adequate drinking water and cameras.
For adventure tourists on cave exploration, the notable lodges and accommodation facilities for you to spend a night on are-Mountain Gorilla View Lodge, Hotel La Palme, Sabyinyo Silverback Lodge, Virunga Lodge, Le Bambou Gorilla Lodge, Kinigi Guesthouse and Gorillas Nest Lodge.
In conclusion, the Musanze cave is Rwanda's newly created tourism site that is worth exploring while on safari in Rwanda. The cave exploration in Musanze can be incorporated with mountain gorilla trekking in Volcanoes National Park and you will certainly be rewarded with breathtaking experiences of lifetime.