Mountain gorillas are critically endangered wildlife species totaling unto 900 species surviving in remote forests of central Africa in Bwindi forest national park with 13 habituated gorilla groups and Mgahinha national park has one gorilla group in Uganda, Volcanoes national park with 10 gorilla groups in Rwanda and Virunga national park in Congo with 6 habituated gorilla families.
Evidently, Bwindi impenetrable forest comprises of the highest number of habituated gorilla groups hosting half the world's mountain gorilla population. Gorilla trekking is one of the most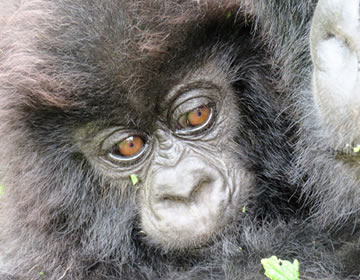 life changing adventure testified by all those who have taken park – gorillas are the largest living primates and their human-like appearance and behavior is something that is so mind-blowing an a true realization that leaves you mesmerized and in wonder.
Bwindi impenetrable forest is a true hikers and wildlife lover's paradise. The forest is home to thousands of wildlife species including forest elephants, chimpanzees – infects Bwindi is the only forest in the world where 3 great apes survive homonyously that is "Gorillas, Chimpanzees and Man" other wildlife which you may come across include antelopes, back and white colobus monkeys and so many others.
Gorilla Permits are expensive in all the places where gorillas are located, with the Uganda gorilla permit going for $600 Per Person to see gorillas for 1 hour. Currently Uganda offers the most affordable gorilla permit, compared to Rwanda permit selling at $1500 as of May 2017.
Actual Gorilla trek in Bwindi Forest
All gorilla trekking strictly starts with briefing early morning by 7:00 all tourists taking park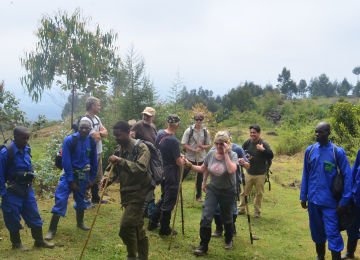 in gorilla tracking that day must assemble at the park head offices for briefing from a head guide, who will give you a general introduction to gorilla trekking in Bwindi forest. The trek starts with your group of 8 tourists, guided by 2 trackers many of whom are reformed poachers, go ahead to locate the gorillas and stay in radio contact with the trackers who go into the forest earlier to locate the actual locations of the gorillas.
The trek takes you through thick forest of dirt routes as your tracker clears the vegetation with a machete to create a passable route for you through the thick vegetation cover and undergrowth. Mountain gorillas although habituated are still wild animals and they keep moving through the forest, but don't move more than two kilometers a day.
Your guide will inform you as you get nearer the gorillas and you leave your bags and walking sticks behind with the porters and you go meet the gorillas
Gorillas are very gentle and just like human beings – as they go about their activities, climbing trees, eating leaves. The silverback gorilla is evidently the head of the family, as you observe him try to show his authority over the family. Numbers of a gorilla family vary from 10 – 25 members comprising of babies, juveniles, mothers adults and silverback which some times are more than one.
Planning
Dry seasons – December, January to March and June to October are the driest months which are the best time to go on a gorilla safari in Africa
Gorilla Permits per day are limited and you are required to reserve your gorilla permit early. A gorilla permit costs $600 Per Person all year round. The discount of $450 no longer applies as of 2018
Which accommodation for Gorilla trekking?
We offer a variety of accommodation options depending on your budget plan. We offer lodges ranging from budget, mid range, luxury and super luxury accommodations. The choice is your! Accommodations are situated 10 – 20 minuted drive from the hotels to the briefing park head offices point.
shall quote them once you request us to arrange this for you These lodges are
located between 10 minutes to about 30 minutes drive from the main briefing area
(Park headquarters)
How large can our group be?
Your gorilla family should have only 8 participants maximum