Bwindi Impenetrable Forest National Park is one of the amazing protected areas in Uganda where mountain gorillas are inhabited in the wild.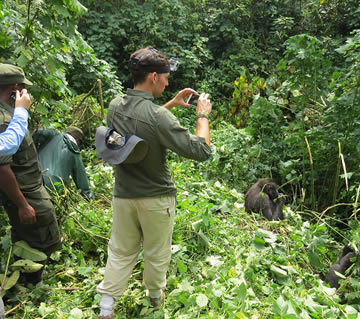 It is situated in Southwestern Uganda and covers an area of 331 square kilometers. Apart from the rare mountain gorillas, Bwindi also offers refuge to over 120 mammals which include primates like chimpanzees, black and white colobus, red tailed monkeys, baboon, L'Hoests which makes the park as one of the best destinations for primate adventures.
Besides, there are also forest elephants and small antelopes like the duikers, bush pigs, giant forest hogs, cat species and many more. There are also many bird species that make up more than 360 including the rare African green broadbill and Shelley's crimson wing as well as the francolins, cinnamon chested bee eaters, green tinker bird, mountain and yellow streaked green buls, mountain masked and chestnut throated Apalises, white browed Crombec, Ruwenzori batis, red faced woodland warbler and white tailed fly catcher and many more, this makes Bwindi one of the important birding areas in Uganda. There are also over 220 butterfly species, 27 frog species 3 of which take place only in Bwindi, geckos; 14 species of snakes-9 of which are endemic and most famous to Bwindi Impenetrable Forest National Park 14 species of lizards and 6 chameleons. Bwindi was gazetted in 1991 and declared as a UNESCO World Heritage Site in 1994.
Gorilla trekking in Bwindi Impenetrable Forest National Park
Uganda is famous as one of the gorilla destinations in the world and gorilla trekking is done in only two protected areas of Bwindi Impenetrable Forest National Park and Mgahinga Gorilla National Park.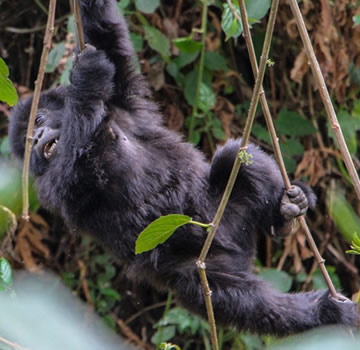 Bwindi National Park is credited with over 400 mountain gorillas and this represents about half of all the world population that thrives in the wild. Trekking permits in Uganda are obtainable at $600 per person which allows visitors to track one of the 11 (eleven) habituated gorilla families in Bwindi. The park also features four sectors which include Buhoma, Ruhija, Nkuringo and Rushaga where the treks start from. For gorilla trekking, you will have one gorilla to track in groups of eight people and among many gorilla families in Bwindi some of them include the Bweza, Mubare, Habinyanja, Nkuringo, Rushegura Oruzogo, Bitukura, Nshongi, Kahungye and many others.
Hiking trails in Bwindi Impenetrable Forest National Park
Besides gorilla trekking, visitors can also engage in nature walks around the park. The hike via Bwindi Impenetrable Forest National Park can be a day or more. The following are some of the breathtaking trails for you hike through in Bwindi;
The Munyanga River trail
This leads visitors through the most scenic Bizenga creek that joins the Munyanga River as they begin and end their trek at Buhoma sector. This trail is ideal for bird lovers and will be led by guide who is excellent at birding. The hike is a half an hour through breathtaking adventure.
Waterfall trail
Bwindi features a number species which you can only explore while on waterfall trail. The trail allows you to explore plants, tree species, butterflies, birdlife, scenic beauty, monkeys and many more that will amaze your hiking adventures in the park. The trail lasts for three hours through a moderate hike to Buhoma sector.
Muzabajiro loop trail
If you are searching for breathtaking trails with amazing views then Muzabajiro is one of a must to visit trails in Bwindi. It offers spectacular views of the Virunga Massifs and the Great western rift valley. Besides, you can also participate in mountain bike. This trail is best visited during the wet season and lasts for 3 to 4 hours in a moderate hike.
Rushura hill trail
If you are looking for the highest mountain in Buhoma sector, look not further than Rushura hill. The hike for this starts trail from Buhoma sector head office through the terraced fields and forests which comes with extraordinary scenic view points across the western rift valley, Virunga Mountains and the park at large. The altitude on its top is 1915 meters and the hike lasts for 3 to 4 hours through breathtaking hikes.
River trail
The Ivy River trail follows an old route via the forest and it is a full day hike with elevation gain and amazing experience that rewards visitors with exceptional sights from bush pigs, butterflies, birds, villagers, monkeys, markets and many more. The trail also takes you from Nkuringo to Buhoma sector. You can choose to begin your journey from Buhoma and end it in Nkuringo. The hike lasts for 6 to 7 and half hours through moderately breathtaking adventure.
Kashasha River trail
The Kashasha river trail is 4 to 5 hours long and the hike takes you through steeper slopes especially around Buhoma-Nkuringo route. It is 600 meters to the end of the trail and you will be accompanied by guide as you view bird, plants, flowers, ferns and trees and other wildlife species. The hike lasts for 5 to 6 hours on breathtaking adventure.
The Bamboo trail
This takes you to steep hike of about 2607 meters and comes with amazing views from plants and vegetation cover including the bamboo forest which makes up 14 distinct types. You will also have a chance to sight afro montane vegetation, grass and forest bird species as you head towards the Rwamunyonyi hill-2607 meters which feature as the highest point of the park. The view at the top is breathtaking especially as you catch a glimpse of Lake Bunyonyi, the magical and mystical Lake below Mafuga forest reserve, Bwindi forest, Virunga Mountains and many more. The hike through this trail lasts for 7 hours in strenuous adventure around Ruhija.
Mubwindi Swamp Trail
This trail leads through the forest that descends via a majestic rainforest with stunning scenic viewpoints along the way of green valley and the Virunga Mountains. As you hike, you will have a chance to view forest elephants, chimpanzees, mountain gorillas, bush pigs and several monkeys and many more. However, before engaging in hiking adventures through this trail, you are required to first get permission from Uganda Wildlife Authority. This trail is perfect for birding safaris and you will be accompanied by an experienced tour guide. The hike lasts for 4 to 5 hours.
In conclusion, Bwindi Impenetrable Forest National Park features as one of the amazing gorilla destinations for you to strike your imaginations with variety of attractions. There are more than mountain gorillas to be viewed in this park as you also have a chance to go for birding, cultural encounters from the Batwa community, nature walks and many more.