3 Days Bwindi silverback gorilla tour starting from Kampala or from Kigali Rwanda. From Rwanda, Bwindi impenetrable forest is situated 3 – 4 hours drive from Kigali. From Kampala, its a long drive of 10 – 11 hours with multiple stops to see the beautiful Ugandan countryside.
Treks to watch gorillas in Bwindi forest is well managed gorilla conservation project which directly support the well being of mountain gorillas in the jungle.

Day 1: Pickup from Kampala / Kigali – Transfer to Bwindi National park
Day 2: Mountain Gorilla Trekking – Visit Batwa Pygmies / Canoeing
Day 3: Departure


Day 1: Pickup from Kampala / Kigali – Transfer to Bwindi National park
If starting your tour from Kampala, this is going to be a long drive and you need to start your drive by 7:00 am with brief stop overs at the equator and in Mbarara for Lunch. You will arrive Bwindi forest late evening. If starting your tour from Kigali, the tour doesn't have to start very early since you only have 4 hours to drive to Bwindi. You will have a tour of Kigali city to the local markets, visit the Kigali genocide memorial sites after which hit the road off to cross to Uganda and drive to Bwindi forest national park.
Dinner and Overnight at Rushaga Gorilla Camp / Bakiga Lodge / Bwindi jungle lodge (Midrange) and Gorilla Forest Lodge / Chameleon Hill Lodge (Luxury) and Mahogany Springs Lodge / Buhoma Lodge (Super Luxury)
Day 2: Mountain Gorilla Trekking – Visit Batwa Pygmies / Canoeing
This day starts with early breakfast at your hotel and drive to Bwindi forest park office to start a brief overview of the day, and what to expect during your gorilla trek. At this point you have an option to get a porter for about $15 Per Porter to carry your day pack and he will also have your back through the trek. Incase you are extremely unfit and cannot hike to the gorillas, you do have the option to be carried to the gorillas – you have a chance to negotiate with the porters on the rate. The hike requires average level of fitness, and don't need to be super fit, of course its an advantage if you are!
However, the guides are not 100% of the locations of the gorillas as gorillas are wild animals which keep moving in the impenetrable forest. You can find gorillas after 30 minutes on wards and can go unto fours hours of hiking. You have an option to ask for the simple trek if you are unfit, as the trackers have an idea of how far the gorillas may have moved as they communicate with trackers who have already gone into the forests to search for actual locations of the groups.
You start your hike with your guide and two guards as the forest is home to several other primates like forest elephants.
Chances of seeing gorillas on your trek are high and guaranteed, but just incase you fail to see them, The Uganda Wildlife Authority offers you an opportunity to go back into the forest at half price
Your guide will signal you as you approach the gorillas so you prepared to meet your gorilla family. Its amazing seeing them, its mixed feels, as they are usually relaxed as they go about their day with the babies clinging to their mothers, the silverback gorillas always on a watch for the group, quite evident that "his the man".
A gorilla family comprises of 10 – 30 members of gorillas with varying ages and can have more than 1 silverback but headed by the dominant oldest silverback.
You get to spend Just one hour with the gorillas after which you hike back to the starting point where you will receive certificates of acknowledgment that you aided gorilla conservation in Bwindi forest.
Return to your hotel for lunch and an afternoon rest, and late evening head out to visit the Batwa pygmies communities which are just neighboring the park. These where the former forest inhabitants who where led out of the forest in order to conserve mountain gorillas and their habitant. You will have a chance to interact with them and learn about their cultures.
Dinner and Overnight at Rushaga Gorilla Camp / Bakiga Lodge / Bwindi jungle lodge (Midrange) and Gorilla Forest Lodge / Chameleon Hill Lodge (Luxury) and Mahogany Springs Lodge / Buhoma Lodge (Super Luxury)
Day 3: Departure
Today is your last day and if traveling to Kampala you will set off early so you can catch your departure flight and if departing via Kigali, its a shorter drive to the airport.
End of Tour


The tour quote inclusions
– Gorilla permit/s
– Batwa Pygmies visit
– 4*4 Safari Vehicle
– English speaking guide
– Full Board Accommodation according to Itinerary
– Drinking water
– Lunch
Tour Exclusion
– Air tickets
– Flights
– Visa ad visa fees
– Items of personal nature
– Optional activities not mentioned in the itinerary
– Tips through the tour

Uganda offers Africa's greatest diversity of attractions condensed in one small landlocked country with gorilla trekking safaris being the highlight all tour to Uganda. Just like Rwanda, Uganda is home to the rare mountain gorillas, dedicated to conservation gorilla survival in the jungle forests of Bwindi and Mgahinga national parks funded by gorilla permit sales which take tourists to visit groups of habituated gorilla families. Uganda offer travelers a guarantee to come face to face with mountain gorillas on your tour
In Uganda, its not just the gorillas, diversity of attractions can be integrated into your itinerary including chimpanzee tracking, white water rafting on the river Nile, launch cruise along the Kazinga channel to watch rage herds of hippos, elephant, crocdiles, numerous birdlife, rewarding cultural tour, wildlife viewing in the savannah in Queen Elizabeth national park, Murchison falls, Kidepo national park, Lake Mburo national park, explore islands of Sesse for a relaxing holiday.
Uganda offers breathtaking lakes and rivers – lake victoria, lake Bunyonyi, Lake Mutanda and river Nile
Why We Love Uganda
Gorilla Safaris to Bwindi impenetrable forest and Mgahinga national park offer life time memories speeding one hour watching a group of gorillas in their natural habitant as well as sponsor a dedicated gorilla conservation project which only surveys because you purchase gorilla permits which funds are used for research, medication, habitant protection. Since the start of gorilla tourism, gorilla numbers have been seen to grow fundamentally and although still recorded by the IUCN as critically endangered species, the numbers of gorillas are flourishing, former poachers have reformed to conservationists and communities surrounding the national parks are receiving help from gorilla tourism
Murchison falls national park today stands as Uganda's largest wildlife reserve with a variety of wildlife including large herds of buffaloes, elephants, antelopes, a variety of bird species and so much more. We love Murchison falls because of her unique nature of the water falls as they make a roaring sound as water pours.
Mburo national park is Uganda's smallest savannah parks painted with ancient metamorphic rocks dating way back more than 500 million years. The park is home to over home to 3oo bird species and variety of wildlife including zebra, eland, Defassa waterbuck, impala, buffalo, oribi, hippo, topi leopard and hyena can be spotted and so much more
Mount Sabinyo at 3645m is one of the 8 volcanoes of the virunga conservation region and can be seen from Rwanda and Congo. The sabyinyo volcano offers a challenging hike to the top owing to its ragged nature, recommended only for experienced hikers. Done in Mgahinga national park,the hike is well managed guided by rangers escorted by armed guards. The hike takes unto 8 – 10 hours depending on the groups' fitness.
– Rwenzori mountains
– Whitewater rafting on the Nile
– Hiking the waterfalls around Sipi in eastern Uganda
Driving Distances Through Uganda Major Towns in KM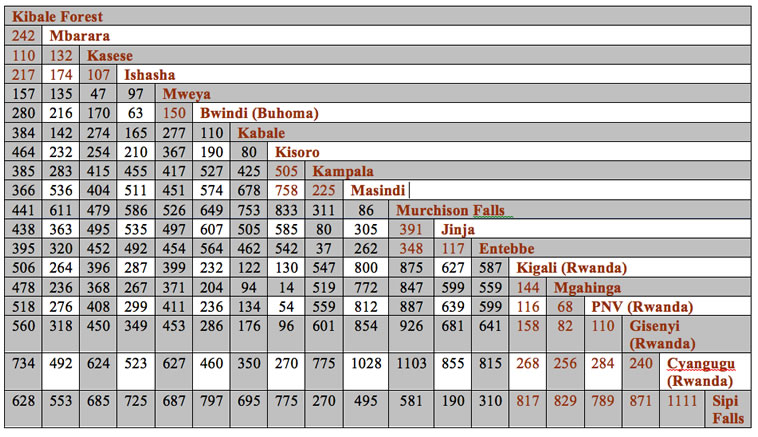 Driving Time Through Uganda Major Towns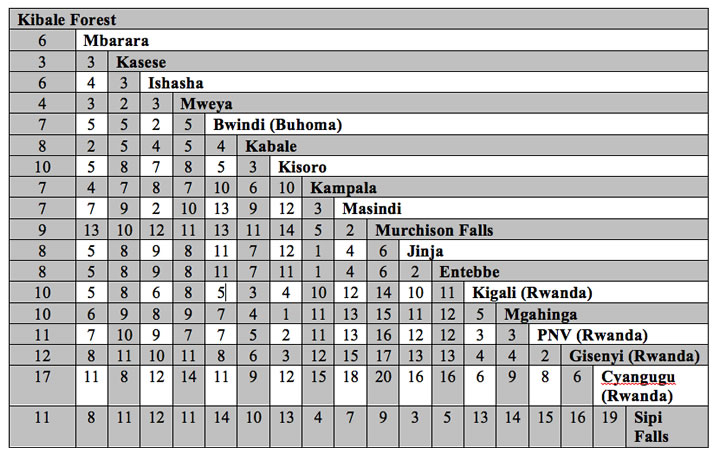 Useful Links
Gorilla Permits
Bwindi Gorilla Trekking
Rwanda Gorilla Trekking
Packing for Gorilla Tracking
Nyiragongo Volcano Hiking
Gorilla Families
Facts on Mountain Gorillas
Gorilla Habituation