Wild Rwanda Safaris offers you an affordable opportunity to join a short gorilla trekking tour to Bwindi forest in Just 1 day starting starting and ending in Rwanda. This is an incredible opportunity if you have a very shot stay in Rwanda or on business and tight budget and must fulfill a life long dream of meeting face to face with mountain gorillas in their natural habitat.
The tour will set off by 4:00 am early morning from Kigali driving into Uganda so you skip making ques at the border crossing and you catch briefing for gorilla trekking in Ruhija.
Itinerary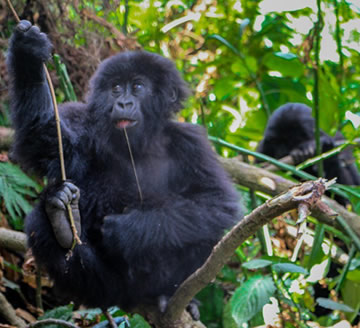 Day 1: Your guide will pick you up from either your hotel in Kigali by 4:00 am or from the airport on arrival, drive through Rwanda crossing into Uganda reaching in time to attend briefing at the Bwindi park offices.
Briefing takes place by 7:00 am and you are divided into Trekking groups of 8 people each assigned a gorilla family for trekking to.
With your guide, with a park guard, start your hike through the impenetrable forest in search for the engendered mountain gorillas in the jungle.
End of Tour
Useful Links
Gorilla Permits
Bwindi Gorilla Trekking
Rwanda Gorilla Trekking
Packing for Gorilla Tracking
Nyiragongo Volcano Hiking
Gorilla Families
Facts on Mountain Gorillas
Gorilla Habituation