If you are looking for breathtaking adventures, look not further than Rwanda. Among other exceptional volcanoes that you shouldn't miss to hike in life is Mount Bisoke. This incredible volcano lies across the border of Rwanda and the Democratic Republic of Congo (DRC) but with the biggest part of it lying in Rwanda. Mount Bisoke stretches up to 3711 meters and it features among the eight most stunning Virunga Mountains.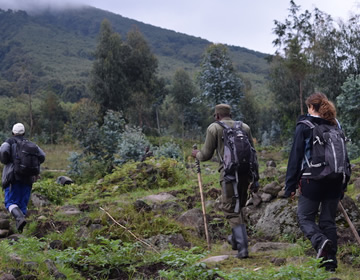 The Great Virunga Volcanoes comprise of 8 dominant volcanoes and offer refuge to the rare mountain gorillas, extending across the borders of 3 neighboring countries of Uganda, Rwanda and the DRC. Bisoke volcano features a typical conic shape of a perfect volcano and in its crater straddles a deep Crater Lake with a diameter of about 400 meters. Another Crater Lake is Lake Ngezi straddles about 11 kilometers from the summit and this was formed after an eruption in 1957. It is from these 2 Crater Lakes that the locals named Mount Bisoke which in Swahili denotes soaked with water.
For climbers or adventure enthusiasts, Mount Bisoke is such amazing volcano that doesn't need much of energy to hike through. The high altitude requires additional strength of hikers and the entire excursion can last 5 hours and the whole day hike depending on your speed and stopovers. Mount Bisoke features as one of the unique mountains that are fully covered by vegetation. The stunning vegetation comprises of three zones starting with hagenia along semi alpine and alpine to the top. Bisoke offers refuge to wide range of wildlife species including the critically endangered mountain gorillas and the stunning golden monkeys all of which are endemic to the Virunga Mountain ranges. Other wildlife species comprise of forest elephant, buffaloes and duikers as well as incredible birdlife that are endemic to the Albertine Rift Valley and several forest birds in the lower hagenia forests.
Activities in Mount Bisoke
Climbing to the Crater Lakes
When it comes to hiking adventures, Mount Bisoke is undoubtedly one of the most sought after volcanoes in Rwanda. It features the 2 spectacular crater Lakes which offer amazing mountain scenery and relatively easy trek.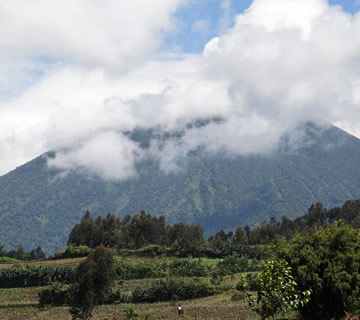 The mountain contains 2 main hiking trails each leading to one of the Crater Lakes. The volcano is about three hours drive from Kigali. Hiking through the Bisoke Crater Lake requires you to be physically well. The hike starts by visitors reporting to Volcanoes National Park headquarters where you will be briefed on dos and don'ts while you hike to the top of the mountain. After, you will be transferred to the head trail where the actual hiking adventures commerce from. The hike is conducted under the guidance of an experienced tour guide who will lead you to the summit. For visitors with heavy luggage, there are porters for you to hire who assist you carry the heavy load and you will only concentrate on hiking. Hiking through Mount Bisoke costs $75 per visitor and this price includes the park guide and the permit can be obtained on the actual trek at the Volcanoes National Park's headquarters. Advance booking may not be necessary. The hike begins at 7:00am from the park's headquarters in Kinigi where hikers will depart for the real adventure.
Gorilla tracking
Mount Bisoke is located in Volcanoes National Park which offers refuge to the rare mountain gorillas. This mountain is therefore a home to habituated mountain gorilla families. Tourists will catch a glimpse of these magnificent wild creatures while trekking one of the habituated groups.
Dian Fossey tomb site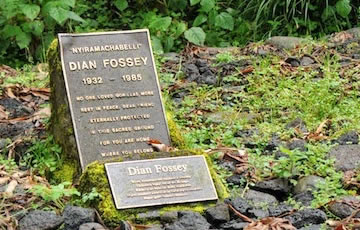 Dian Fossey is the most popular zoologist that devoted her life in protecting the mountain gorillas in the wild. The survival of these endangered in the wild today is largely credited to Dian Fossey's conservation attempts. She conducted her research for about 18 years while conserving these humble creatures but unfortunately she was mysteriously murdered and her body was buried around Mount Bisoke at her research center along with the mountain gorilla "Digit." A hiking trail takes you to her tom and the Karisimbi research center where you will explore more about her conservation measures, history and more about her life. The hike lasts for about 2 hours and it comes with the stunning views of mountain gorillas, golden monkeys, several birds and other wildlife species along the trail.
Bird watching and forest walk
For bird lovers, hiking through Mount Bisoke is such an incredible experience that you shouldn't miss out. Along the trails to the mountain vegetation, you will be amazed by bird encounters that make up the 178 bird species in Volcanoes National Park as well as other wildlife species including the rare mountain gorillas, forest elephants, buffaloes, orchids and a lot of distinct vegetation cover.
In conclusion, if you are adventure lover, hiking through Mount Bisoke should be one of you must to do adventure while on Rwanda safaris. The hike is ideal during the dry season and you need to have some physical fitness to be able to complete the hike although hiking Mount Bisoke isn't that breathtaking. If you are planning for your mountain gorilla trekking safaris in Rwanda, make sure that you do not leave out Mount Bisoke.