Volcanoes National Park is also famous as the Parc National de Volcans. It is situated in northwestern Rwanda along the Great Virunga Massifs that make up eight mighty volcanoes, shared by Uganda, Rwanda and the Democratic Republic of Congo (DRC).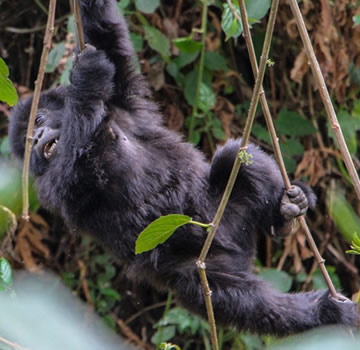 Dian Fossey tomb site to explore more about her conservation lifestyle or visit to the Dian Fossey Gorilla Fund which has kept her legacy up to date. As you get close to this protected area, you will find sound local markets at Musanze where you can also encounter vibrant cultures or explore the Musanze caves. Gorilla trekking is exceptionally one the most sought after experiences in Rwanda. Permits for this lifetime experience in Rwanda cost $1500 per person.
For visitors on safari to Volcanoes National Park, the following are some of the activities for you to enjoy;
Mountain gorilla trekking
Gorilla trekking is largely the main adventure for most tourists on safari in Rwanda. Situated in Northwestern side of the country, Volcanoes National Park offers the most spectacular scenic views with thousands of visitors flocking to view the rare mountain gorillas in the wild. Volcanoes National Park is comprised of only 10 habituated gorilla groups that have been set for gorilla trekking safaris in Rwanda. Mountain gorillas are fewer than 900 in the whole world and Rwanda is a home to over 60% of all those that live within the Virunga Massifs making it one of the most exceptional gorilla destinations in the world. Other gorilla destinations include Uganda which features two national parks-Bwindi Impenetrable Forest National Park and Mgahinga National Park, in DRC-Virunga National Park.
Golden Monkey trekking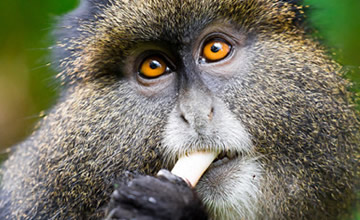 Besides striking imaginations with a group of impressive mountain gorillas in the wild, Volcanoes National Park offers you yet with another dramatic opportunity to encounter another group of the rarest primates in the world. Volcanoes National Park is where silver meets gold. The rare golden monkeys are some of the most spectacular primate species that visitors yet another exciting experience of lifetime. These striking creatures thrive within the Virunga Massifs which include the Virunga National Park in DR Congo, Mgahinga Gorilla National Park in Southwestern Uganda and Volcanoes National Park in Rwanda. Several groups have been habituated to support tourism activities and they are mainly sighted around the bamboo forest.
The Dian Fossey hike
This is a 3 hour hike to the Dian Fossey's tomb site that gives visitors a chance to explore the life of Dian Fossey and her research camp in the Virunga Volcanoes of Rwanda. Dian Fossey was devoted to her work of protecting the rare mountain gorillas as she conducted her 18 year research till she was mysteriously killed. She established the Karisoke Research Center which has kept her legacy up to date as well as the Dian Fossey Gorilla Fund. The hike to her tomb site rewards visitors with spectacular scenic views, wildlife encounters, monkeys and birdlife.
Volcano climbing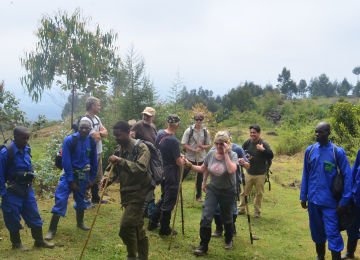 Volcanoes National Park offers refuge to 5 Great Virunga Mountains that make up part of the eight Virunga Mountain ranges. For adventure tourists, hiking through Mount Karisimbi is such exceptional experience not to be missed while on a safari in Rwanda. A hike through this volcano rewards visitors with thrilling adventures, views and amazing sights through distinct vegetation zones which include the afro montane zone.
Nyezi Lake trail
This is a short trail walk to mount Visoke where the shallow Crater Lake is situated in Volcanoes National Park. The hike lasts for 3 to 4 hours and you will be escorted by the park ranger as you explore other wildlife species including several birds on your way. A hike to Lake Nyezi offers visitors a taste of the Virunga Massifs foothills, the Crater Lake scenic views near and far, wildlife, birds and monkeys.
Visiting the twin Lakes of Burera-Ruhondo and the Russumo falls
A hike to Rwanda's stunning Lakes of Burera-Ruhondo is one of the remarkable adventures that you shouldn't miss in life. Visitors can hike to the view point and have an afternoon cruise on Lake Ruhondo as they catch a glimpse of the sunset. You can also take a walk to Russumo waterfalls which lasts for about 3 hours but comes with remarkable views along the trail, valley and at the waterfalls. It also offers you opportunity to engage in boat cruise on Lake Ruhondo which lasts for one and half hours.
Buhanga sacred forest nature walks
This is one of the smallest forests in Rwanda which features amazing history, culture and gives meaning to several Rwandan people. The Buhanga sacred forest was site where the kings of Rwanda came and bathed in the water prior their coronation. It turned to be a sacred ground in way that those who stayed locally refused to cut down trees or plant and cultivate and farm around it. It is believed that this forest takes various colors even different dimensions depending on the season of the year, light and weather. Its trails are made of Lava stones and the trails stretch via the forest.
Iby'Iwacu cultural village
Besides gorilla trekking, you can also visit the Iby'Iwacu cultural village for thrilling cultural experience, traditional meals and drinks like banana beer or garb banana juice to cool down the thirst, dances and performances. The word Iby'Iwacu denotes treasures of our home and heritage. Rwanda past and current comes alive and real with tourists having hands on cultural experiences.
The Musanze caves
The Musanze cave exploration is Rwanda's newly created attraction that came a million years ago. It features several entrances one of which is incredibly that of cathedral. These caves provided protection to a number people during the 1994 genocide that most them lost their live and today the caves are respected as one of the memorial site in Rwanda. As you get inside it you will welcomed by vibrant sounds and also expect to sight several bats that have occupied the caves.
In conclusion, Volcanoes National Park is one of a must to visit destination in Rwanda. The park isn't only for gorilla trekking adventures but also for cultural encounters and many more which are worth adding in your itinerary.