2 Days gorilla tracking Rwanda starts from Kigali with a visit to the Gisozi genocide memorial site where you will learn a lot about the 1994 Rwandan genocide and trekking mountain gorillas in Volcanoes national park. Here you have a great opportunity to select a simple, moderate or tough hike depending on your Physical fitness. Get a chance to watch a family of silverback gorillas unclose on your tour.

Day 1: Transfer to Volcanoes National Park
Day 2: Mountain Gorilla Trek and Return to Kigali

Day 1: Transfer to Volcanoes National Park
This tour starts with an early morning pickup by our company representative from either a hotel / Kigali International Airport for a transfer to Volcanoes National Park, Musanze province
On your way, engage in a Kigali City Tour taking you through Gisozi Genocide Memorial Site before proceeding with your drive to the park. On arrival, proceed to your lodge check in; dine and rest for overnight at The Garden Place(Budget), Le Bambou Gorilla Lodge/ Davinci Gorilla Lodge(Midrange) and Mountain Gorilla View Lodge/ Five Volcanoes Gorilla Lodge(Luxury)
Day 2: Mountain Gorilla Trek and Return to Kigali
Have breakfast and head for the Kinigi Park offices by 7:00AM; just in time for the morning briefing on the code of conduct when trekking for the mountain gorillas. After locating the creatures, take clear observation of their behavior while taking photographs and videos for this wonderful encounter. Later retrieve the starting point; meet up with your guide for drop off at either a hotel / Kigali International Airport.
End of Tour

The tour quote inclusions
– Gorilla permit/s
– Genocide Memorial visit & Kigali city Tour
– 4*4 Safari Vehicle
– English speaking guide
– Drinking water
– Lunch
Tour Exclusion
– Air tickets
– Flights
– Visa ad visa fees
– Items of personal nature
– Optional activities not mentioned in the itinerary
– Tips through the tour

About Rwanda
Rwanda Guided tours taking you to explore – The Land of a Thousand Hills – a brave country moving past past the turmoil and horror of the 1994 genocide.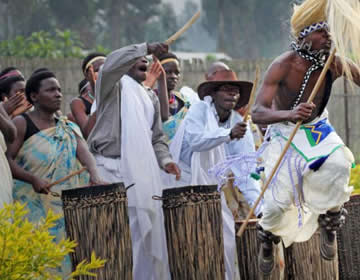 After 23 years, the country has worked together to rebuild her infrastructure and reconciliation among her people and her neighbors. The peaceful approach has remarkably worked for the beautiful small country, that today shines out as one of Africa's safests and cleaned countries to visit.
Rwanda is a green mountainous country with remarkable scenery and welcoming people embracing a peaceful future complimented by the numerous attractions to see in Rwanda; the rare mountain gorillas which have made the country a must stop for all African to fulfill a life long dream of meeting our close cousins in the jungle,
At Wild Rwanda Safaris, all our tours are private and you can signup for this tour all year round crafted using our extensive knowledge and experience of creating gorilla tours in Rwanda. Your local expert guide will share great insight information about the lives, culture, history, flora and fauna of the beautiful country. We shall make sure your expectations are fulfilled and honored with great precious memories.
Accommodations
All tours have been planned to offer you a range of accommodation options so we fit all types of traveler budgets to offer you a very personal experience ranging from small
intimate guesthouses to midrange accommodation properties to top luxury acclaimed lodges in the different attractions and national parks. You have the power to decide the your tour budget and travel conveniently
Guide to drive distance between towns in Rwanda
Kigali to Volcanoes National Park 2hrs 15 mins – 80 Kms
Kigali to Akagera National Park – 2 hrs 30 mins Drive time – 120 Kms
Kigali to Nyungwe National Park – 6hrs 30 mins Drive time – 225kms
Kigali to Musanze – 2 hrs Drive time – 72 Kms
Kigali to Gitarama – 1 hr Drive time – 51 Kms
Kigali to Butare – 3 hrs Drive time – 142 Kms
Butare to Cyangugu – 3 hrs Drive time – 155
Musanze to Gisenyi – 1 hr Drive time – 62 Kms
Kigali to Bugasera – 50 mins Drive time – 60 Kms
Kigali to Kibuye – 3 hrs 20 mins – 130 Kms
Kigali to Rwamagana – 1 hr Drive time 50 Kms