The headline for every gorilla safari in Rwanda is the hiked gorilla permit prices which The Rwanda Development Board suddenly raised from $750 to $1500. Rwanda is one of the 3 countries in central Africa where tourists can visit go see gorillas in their natural habitant. Volcanoes national park Rwanda is part of the virunga highland region also shared by Congo's Virunga national park and Mgahinga national park in Uganda. The Virunga highland region is the other location where mountain gorillas are located and Bwindi national park in Uganda.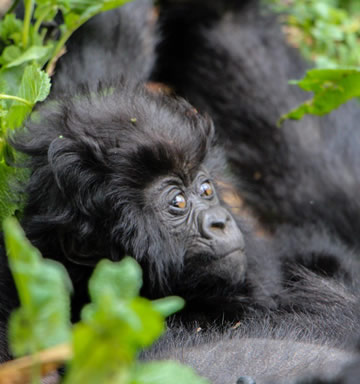 By nature of location Volcanoes national park has a mountainous landscape with 2 volcanoes situated inside the park – the Bisoke volcano as well as mount Karisimbi – the volcano where the famous Dian Fossey the american primatologist who pioneered and championed mountain gorilla conservation in the east and central Africa is where she setup her base and research karisoke. The Volcanoes national park is made of bamboo first cover which allows sunlight to penetrate through the bamboo giving more light as you hike through the gorilla in search for your gorilla family, unlike Bwindi impenetrable forest forest which an afromontane forest with thick vegetation cover.
Volcanoes national park hosts over 480 mountain gorillas, holding the largest number of gorillas of the 3 parks that is Virunga and Mgahinga national park and is home 10 habituated gorilla families and a number of gorilla groups still under habituation process which are distributed throughout the national park. Gorillas are nomads and they freely move in the jungle but rare do gorilla families meet and mix, and if they ever meet, each family member knows its group and can never be lost around the forest. As such some gorilla families are located along the lower slopes and these are the simple families to trek, while others are located mid slopes and these are the medium groups to trek and tough families are situated up hill and require hiking up hill and low to locate them. With 10 gorilla groups open for visitors, only 8 people are allowed to visit a single gorilla family daily; this means that only 80 people can trek for gorillas in volcanoes national park per day.
Logistics and Planning
When is the best time to go trekking for gorillas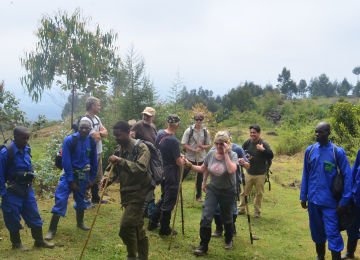 Gorilla trekking can be done all year round but the dry seasons from December, January to March and June to October. April, May and November is wet season and with the right packing list, you will successfully trek gorillas in Volcanoes with ease.
Rainy seasons have an advantage over the dry season as gorillas prefer leaving in cooler places and in the rainy season since the temperatures are cool, large numbers of gorilla families are easily found lower slopes than in the dry seasons
Gorilla Permits
With a limited number of gorilla permits available per day, planning your gorilla tour has to be done at least 6 months in advance. Currently the price for Rwanda gorilla permits goes for $1500 for all nationalities including East Africans and Rwandas and a Low season 30% discount for tourists who plan to stay longer for 3 days visiting other Rwandan national parks as well as a 15% discount for conference tourists who plan to trek gorillas earlier or after their conference in the country.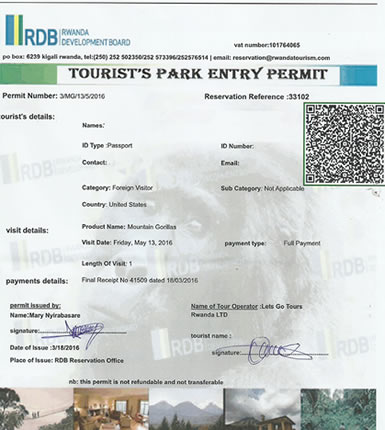 Gorilla Permits can be Purchased directly from the Rwanda Development Board website, you can just send the an email, or visit their offices while in Kigali and buy your permit directly. You can also book through Wild Rwanda Safaris and we shall be able to reserve your permit for your and send you a scanned copy on request.
What is the cost of a Rwanda gorilla tour
The cost of a Rwanda gorilla tour today starts from USD 2000 Per Person inclusive of gorilla permits at $1500, 4*4 safari vehicle and fuel, English speaking guide and mineral water. This quote is offered if you arrange your tour through a laical tour operator while
if you plan to organise your gorilla trek by your self, this can go cheaper especially if you opt to use public transport.
Which accommodations for Gorilla trekking?
We offer a variety of accommodation options depending on your budget plan. We offer lodges and hotels ranging from budget, mid range, luxury and super luxury accommodations. The choice is your! Accommodations are situated 10 – 20 minuted drive from the hotels to the briefing park head offices point.
shall quote them once you request us to arrange this for you These lodges are
located between 10 minutes to about 30 minutes drive from the main briefing area(Park headquarters)