Mount Nyiragongo Volcano lies in Virunga National Park and you need to apply for a Congo visa at least 7 days in advance.Internationally, Congo is known as a no go area, the truth is, Congo is very safe for tourists!, and if ever any security concern arose, the virunga park would be closed off, and they would never let you cross the border into DRC.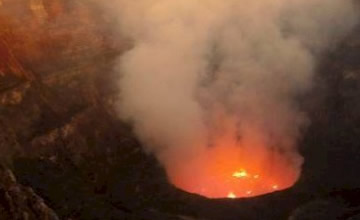 Hiking mount nyiragongo isn't as tough as whats documented. Its doable even for average fitness apart from the pieces of uneven rocks from the past eruptions that make hiking a little difficult as you step the ground but the terrain isn't steep. Its very possible to hike the Nyiragongo volcano in just one day up and back down. The 2 day hike is more rewarding as you get to watch the boiling magma from the realm of the lava pool in the night, it become bright in the night without the obstruction of the heavy smoke. Simple cabins are available in the night with a mattress.
Why we love Nyiragongo Volcano?
Nyiragongo is an active volcano offering tourists an opportunity to watch pool of steaming bubbling lava, never ending. Nyiragongo lave experience is something unique – indeed a great mystery. You can sit at the edge of the crater and watch the magma orange burn away, best to watch when the sun has gone down, you get clear views of the magma
of Nyiragongo hiking
Hiking the Nyiragongo volcano costs $300, which includes accommodation at the top of the mountain but excludes other details which must be planned independently like porters, hiking gear, transport from the border to the park, and meals, and the DRC visa costs $100.
Other Activities
When visiting Nyiragongo volcano, one can also go for gorilla tracking in the Virunga national park. The park is open for visitors who wish to visit with gorillas in the jungle. Virunga national park currently hosts 6 habituated gorilla groups available for visitors and offers a total of 48 gorilla permits available daily. Gorilla permits in Congo go for USD 450 which is a much more affordable price as compared to Rwanda at $1500 and Uganda at $600.
How to get to Virunga
Tourists access Goma when they arrive through Kigali – Rwanda and drive to Gisenyi the border town into Goma. One can hire a vehicle from Kigali at $80 – $100 and can be cheaper in a group.
You need to apply for Visa a day in advance, normally through your tour operator who should email you visa forms which you fill and send back.
Border crossing into Congo is easy, and if you are hiking mount Nyiragongo the same day you cross, you need to arrive at the border very early so you don't be delayed in the crossing line. Its gets very busy in the day as trucks and buses cross.
Rwanda Visa – Please note that once you exit Eastafrica (Uganda, Rwanda & Kenya), your Rwanda visa / Uganda Visa and EastAfrican visa expires. Hence, you don't need to apply for expensive eastafican Visa. Its best you pay for single entry into Rwanda because you will be paying another visa back into Rwanda.
You must be at Kibatsi ranger station by 9:00 for briefing and getting the necessary gear for hike.
What to pack for Nyiragongo hiking
You can hire hiking gear from Virunga authorities if you are traveling on your own while if you are planning your tour with a local tour company, they take care of everything.
All year round you must pack sturdy hiking boots, rain gear, comfortable hiking pants, warm clothes, layer of socks, gloves, hat, scarf, headlamp for the night, snacks and energy food and snack, enough water, long under wear and sweater for the night it gets freezing cold in the night.
Be sure to hire a porter at the Kibatsi patro station for $25 to carry your bag up and down the volcano. You will need your energy for the hike
Is is safe to hike Nyiragongo ?
This question is a must for every travel to Nyiragongo volcano. For starters, after the last Nyiragongo volcano eruption, a seismologic observatory was set up in Goma to monitor both Nyiragongo and its sister volcano – Nyamuragira.
Yes this cannot 100% guarantee your safety at the Volcano, thats why its necessary to keep with your group which normally comprises of porters and park armed guards.
Currently, its very safe to travel through Congo, on your hike, you are accompanies by 2 to 3 armed guards, and you feel very safe.