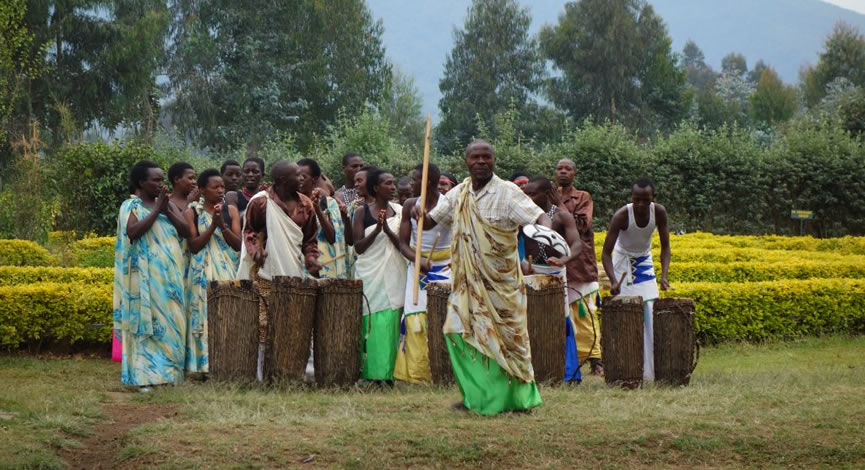 With the growing RwandaAir flying to 25 destinations worldwide by 2018, Rwanda is quickly becoming a convenient destination for travelers.
Rwanda is a landlocked country located in East Africa bordered by Burundi and Uganda in north, Democratic Republic of Congo in West and Tanzania in East. Even though the genocide of 1994 can never be forgotten, today, Rwanda is one of the most politically stable and secured nations in Africa.
The Virunga volcanoes and many hills make Rwanda famed as the land of a thousand hills. Geographically situated in East African Albertine rift valley, the country has a compelling natural diversity including tropical rain forests, 5 volcanic mountains, lakes and rivers, tropical beaches, make it a destination for adventure and Eco-travelers.
With modern infrastructure, you will easily access some of the top places with attractions to visit while on a safari.
Kigali City
Rwanda's main capital and business center is also the country's entry point at Kigali International Airport. Noteworthy the Kigali convention center with 5000 conference auditorium has sparked MICE development attracting wealthy visitors. Big news is the five star Radisson blue hotels with well appointed rooms and 24 hours dinning serves Rwandan local and international dishes as well as supper breakfast buffet.
Also check out the coffee shops and restaurants at union trade, MTN shop center and many others in kacyiru, kiyovu. You'll find a range of handicrafts spearheaded by caplaki handicrafts co-operative and the biggest draw is the 38 stall market, you would expect to buy a souvenir, Agaseke baskets being the most famous around the world.
Genocide Memorials
Rwanda's historical genocide memorials are accessible as places for remembrance, honor and respect of approximate 800,000 Tutsi and Moderate Hutus, the victims of the 1994 genocide.
The Kigali genocide memorial is the main burial site of more than 250,000 victims. Guides can take you around or simply choose an audio guided tour experience. Other genocide memorials are found at Nyamata and Ntarama memorials. A visit there is more than just life changing through education and peace building campaign never again.
Given the history, Rwandan popular music such as salsa, comedy and traditional dance entertainment is intertwined in history and culture. It's no surprise across Kigali city you'll find bar lounges, cultural centers and clubs to spend a night. Historic venues include Hotel Des Milles Collines, a place famous for having protected over 1000 people during the genocide, and other like planet club, Niyo cultural center, inema art center.
Volcanoes National Park
Volcanoes National Park is the habitat ground for over 200 critically endangered mountain gorillas. The park is renowned for gorilla trekking as the main tourist activity. Just accessible by 2 hours drive from Kigali, kingi is the main visitor center where treks begin. With 10 habituated gorilla families in the park, you're guaranteed to spend one hour face to face with gorillas in their natural habitat, regarded as a trip of a life time.
The park is also known for its high altitude breathtaking Virunga volcanoes shrouded in clouds. Mt. Karisimbi is the highest; Mt. Sabinyo and Mt. Bisoke.the slopes of these volcanoes are forested with bamboo and are a home to the endangered golden monkeys. Primate lovers will enjoy golden monkey tracking while adventure visitors can hike the volcanoes and also visit the grave site of Dian Fossey.
The park is truly a wonderful spot for bird watching. About 178 birds have been recorded including Albertine rift endemics species like Rwenzori Turaco.
On the outskirts of the park, the cultural village at Iby'Iwacu is popular Rwandan arts, culture, handicrafts and traditional dance performances. Visit the cultural village after gorilla trekking, for a home stay, eat local food, buy a souvenir and make lasting memories of your safari to Rwanda.
Akagera National park
Situated on the eastern border with Tanzania, the stunning Akagera national park has a distinctive savannah and rolling hills where the meandering Akagera River form several swamp fringed lakes, home to big game mammals. No other park in Rwanda where you can enjoy game viewing with sightings of African elephants, buffalos, giraffes, zebras, spotted hyenas, bush bucks, eland, topi and warthogs. Lately lions were brought back into the park after having been poached and poisoned by the neighboring cattle herders. But there's more of the wildlife to see, you can go for boat trips on Lake Ihema to view crocodiles and hippos. The park has over 200 species of birds; birders mostly look out for the shoebill stork, papyrus goneclock, and African fin foot among many rare species.
Nyungwe Forest National Park
Lying in southwestern tip of Rwanda, Nyungwe forest national is accessible by 3-4 hours drive from Kigali city.
Shrouded in clouds, Nyungwe an ancient afro-montane tropical rainforest is home to chimpanzee and 13 species of primates including troops of up to 300 black and white colobus monkeys. The popular activity is chimpanzee tracking at Uwinka visitor center and there are not many but few excellent campsites and lodges to provide accommodation services. So book one in advance.
Nyungwe Forest has been called one of the most biologically diverse hotspots in Africa. There are 75 mammals, 120 butterflies, 300 species of birds, reptiles and a variety of plants, orchids, and flowers. Nature walks in the forest are truly rewarding for eco-travelers who want to be one with nature.
A canopy walk is popular for good reasons; you can walk on top of trees, view the monkeys and birds and enjoy fresh air. Over 13 hiking trails have been developed, for those who want strenuous hikes to Kamiranzovu a huge waterfall in the middle of the forest and the speculated source of the Nile at river Rukara on the northern part of the forest.
In the vicinity of the park, the lush greenery tea estates in Gisakura and Gisovu where you can have different taste Rwandan tea. Tourists on a safari to Nyungwe forest visit the tea estates due to the easy accessibility; it is also possible to connect to Kibuye or cyangugu towns and Lake Kivu.
Lake Kivu
Lake Kivu is fresh water lake located in the west on the border with Democratic Republic of Congo. The lake boasts pristine beaches, warm weather and there are no crocodiles, hippos nor risk of bilharzias infection, making it ideal for swimming. A great place for relaxing and enjoy sunsets. With several outdoor activities including boat cruises, kayaking, surfing, sport fishing, traditional canoeing, visiting Idwiji and other islands.
Whether a family is looking to relax or couples looking for honey moon, Kivu has water front resort hotels and many lodges found in Gisenyi, the most developed town for tourism, here you can hike Gisenyi hills and visit the hot springs. The other towns are Kibuye and Cyangugu with amazing views of the whole lake and Albertine rift valley.
Nyanza
Nyanza is a historical city located in western province about 88 km from Kigali. Visitors go there mainly to learn the traditional monarchy of the 19th century which was led by King Mutara the 3rd Rudahigwa. As part of the Rwandan culture, the long horn cattle were recently introduced and guides explains their importance. There are three palaces. The first is the main king's palace museum is built with grass and papyrus reeds. The other two palaces where the king also lived after his visit to former colonial master Belgium. Sadly, the monarchy was abolished and the king went into exile from where he died. You can visit the burial ground near hill of Mwima.
Musanze caves
Musanze caves located outside Musanze town and 90 minute drive from Kigali. you can visit them after gorilla trekking since they are near volcanoes national park.
They are ancient caves formed by volcanic activity that took place in Virunga massifs. Today they attract visitors for photography opportunities due to green vegetation, many bat colonies and large opening resembling a cathedral. Some people believe the wide opening was constructed by a king rather than being naturally formed. This is because the caves were used as shelter during war in the early centuries as well as during the most brutal genocide of 1994.
The National museum of Rwanda
Located in Huye district Butare city southern province, the museum has a lot of exhibits ranging from nature to ethnography providing information into the country's development as early as pre-colonial times to present day. While at the museum, you can be entertained on request by the dancers with their traditional Intore/warrior dances. Other museums promoting Rwandan culture can be visited, including Natural history museum in Kigali city, national art gallery in Rwesero Nyanza, presidential palace museum in kanombe and the museum of environment in karongi district.